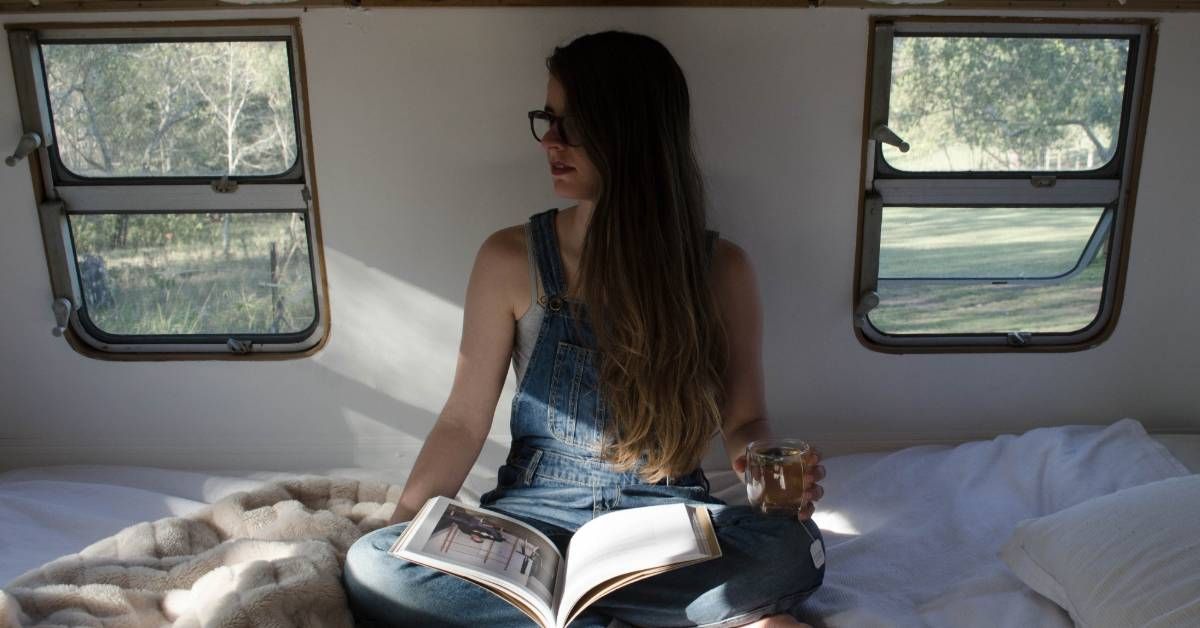 HOW TO START LIVING IN A TINY HOME
Welcome back to the River Edge Tiny Home Village blog! Today, we're going to be sharing some information geared towards those of you who are considering living large in a tiny home, but are afraid of taking the jump.
We get it! While tiny home living is incredible, it takes some time to get used to, plus the transition from conventional living to tiny home living can be jarring if you're not prepared.
That's why today we're going to talk about what you should do if you're considering moving into a tiny home and how you can prepare to make the change. Keep reading to learn our tips and tricks!
DECIDING TO LIVE SMALL
Before you start making a transition, you will need to make the firm decision as to whether or not tiny home living is right for you. The question is, how do you make that decision? Well, we have a few places where you can start to decide whether or not tiny home life is a good fit for you. First, is it something you're interested in? So many people are joining in on the tiny home movement because they're interested in getting back to basics, living minimally, and enjoying the simple things life has to offer. Does this sound like you? If you're unshaken in this belief that this type of lifestyle is what you're made for, we implore you to get started with your transition to tiny home living — you're a perfect fit!
However, simply wanting a new, unique, and interesting experience isn't the only reason that people look to tiny homes. Another driving reason to ditch large living for a tiny home is financial. Tiny home living is shown to cost less as it requires less water, electricity, etc. than conventional homes. That being said, tiny homes technically cost more per square foot than conventional homes, but that's attributed more to the fact that each square foot of a tiny home is intentionally used to achieve the best possible function, making each square foot a valuable resource that needs attention to achieve its optimal format.
The final reason we're going to cover as to why you may want to consider living small is that tiny home living is more eco-friendly than conventional living. By taking up less space and efficiently using fewer resources, tiny houses are better suited for environmentally friendly living. Not to mention, by using less resources, you're going to have lower energy bills to deal with.
START WITH RESEARCH
The first thing you need to do before making the transition to tiny home living is to do thorough research. The good news? You're already starting this step by reading this blog! First and foremost, you need to address whether or not tiny home living is going to be conducive for your lifestyle and needs. While we truly believe that tiny home life can work for any and everyone, you should spend a considerable amount of time thinking about if you'll enjoy living in a smaller space.
Most tiny homes are going to average at around 400 square feet; however, you can easily find tiny homes that are smaller and larger than that average. Keep this in mind, and use this information to make a decision when deciding what kind of tiny home you're going to live in. For instance, are you going to buy or build a tiny home? In either case, you'll want to find tiny home designs, and choose one that works in your budget while suiting your wants and needs. Once you've decided on the type of tiny home you're going to live in, you'll then need to acquire it via purchase or by building it. And then, finally, you'll need to arrange where you'll be living in your tiny home.
If you're not looking to own a tiny home, renting is a great option! There are plenty of places where you can rent a tiny home, introduce yourself to tiny homes, and enjoy the majesty of living small. In fact, River Edge Tiny Home Village is a perfect place for either option. If you're looking for a place to set up your own tiny home, we have on-grid and off-grid tiny home lots that you can rent and get situated on! We also have private and shared lots that you can choose from, depending on the living experience you're looking for. That being said, we also offer tiny homes that you can rent if you don't own a tiny home. In our tiny home community, there's no limit to the ways you can live!
CHOOSE WHAT STAYS, CHOOSE WHAT GOES
Chances are, you're currently living in a home or apartment, and you have a decent amount of material good. From your kitchen supplies to books, from knick-knacks to clothes, you probably own more stuff than you realize! The reality of tiny home living is this — you're going to have to cut down on the amount of belongings you possess.
This, undoubtedly, is a stressful and daunting task that you're going to need to deal with. However, we have some tips that will help you finish this step with a minimal amount of stress. First, take inventory of your belongings. Sure, this sounds tedious and unnecessary, but it will actually help you out so much! Here's the deal — by taking a written inventory of your belongings, you can organize yourself on paper, as opposed to organizing your belongings by trying to sort them in the moment.
We've all been in this position — you need to clean your room, but after an hour you realize you've been playing with old toys, trying on old clothes, reading old books, and more, all of which has resulted in a larger mess than what you started with. When you make a written inventory instead, you can have a more objective judgement when you're considering what you need to bring along for your new chapter!
Naturally, during this step ensure that you're making a note of the essential belongings you'll need, as well as thinking on things you can consolidate or remove entirely! Instead of trying to squeeze a dryer into a tiny home, keep the washer and air-dry your clothes. Cut down on plates, and prepare to wash dishes by hand, rather than relying on a dishwasher. The list goes on!
CHOOSING YOUR TINY HOME
Now, let's talk about choosing your tiny home. These details will be for whether you're renting or buying/building a tiny home.
Renting A Tiny Home
The nice aspect of renting a tiny home is that you don't have to go through the painstaking process of designing or buying a tiny home, you simply have to choose a tiny home that is conducive to your needs and the people you're living with. At this point, you're essentially making a choice based on what you like better! At River Edge Tiny Home Village, we offer two types of tiny homes for rent, so you'll be able to make a fast and effective decision if you're choosing to rent with us.
Buying Or Building A Tiny Home
When buying a tiny home, it's similar to renting, but you have so much more agency in terms of what kind of house you're going to live in. You can search for the tiny home that is bigger than average, you can find one with cool multi-use features, and so much more! That being said, be sure to do scrupulous research to ensure that any tiny home you consider buying will accommodate your wants and needs.
If you're building a tiny home, you've got quite the process ahead of you! But don't let this discourage you from doing it, just prepare properly. You'll need to design your tiny home, and then proceed to construct your tiny home. This needs to be done to code, and we recommend contracting a professional to design your tiny home. There are so many amazing ways to make innovative, effective use of a small space that people well-acquainted with tiny homes will help you realize in your own home.
RIVER EDGE TINY HOME VILLAGE
At River Edge Tiny Home Village, we love tiny homes so much we made a community of them! If you're interested in learning more about or joining our community, please contact us today!