River Edge 
TINY HOME VILLAGE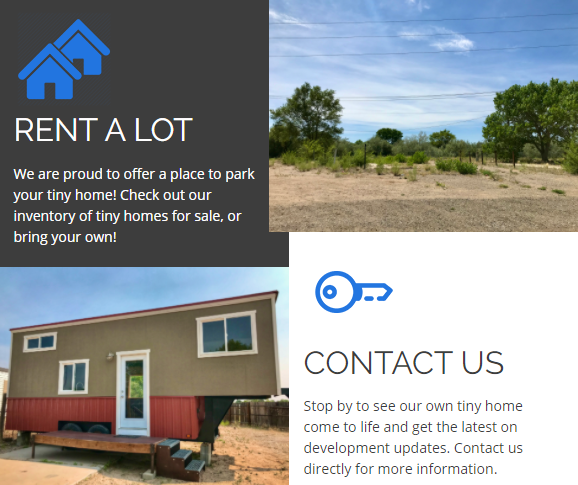 JOIN OUR COMMUNITY
We are now open to tiny home dwellers! River Edge Tiny Home Village offers pre-existing tiny homes for sale, and accepts 50Amp/100Amp tiny homes, as well as off-grid tiny homes. We are proud to offer spacious lots at a reasonable price for your tiny home. Become part of our tiny house community, and enjoy the benefits of living near other like-minded neighbors who share an interest in simpler living. As we like to say, come live large in a tiny home!
WELCOME TO RIVER EDGE ​TINY HOME VILLAGE
Our tiny home community is located in Rio Communities, ​the newest town in New Mexico. ​The city was incorporated July 1, 2013, ​and is located just east of the beautiful Rio Grande. ​This area is known to be the winter home of Sandhill Cranes and snowbird golfers! There's so much natural history here to enjoy — early settlers came via the Salt Mission Trail, known today as Highway 47​. The famed Rio Grande borders our community and provides great birding​ opportunities. You won't want to miss the exciting opportunity to live in this desirable location. Now, we're writing a new chapter in this amazing area's history, with the beginnings of an economical, ecologically friendly, and sustainable tiny home community. We're excited to grow, and can't wait for you to join us.